The phrase "Machine Down" is our version of a 911 call. It elevates the urgency and priority of our response. Recently Landel Controls and Encoder Products Company teamed up to expedite the replacement of a competitor's failed rotary encoder. The combined and coordinated efforts of all parties resulted in getting the Customer's production line up and running quickly--avoiding weeks of waiting for the competitor's encoder to arrive. That's time no one can afford.
Our receipt of a Same Day Expedite order triggers a number of internal actions. A team of employees in various departments all contribute in their individual roles to make sure the encoder ships on time. The following is a timeline, from incoming request to follow up call, for one such recent order.
FRIDAY 16 FEBRUARY 2013 EPC GLOBAL HEADQUARTERS, SAGLE, ID
8:07AM EPC Sales team member Jameson Longanecker receives a call from Dave Siebert, sales engineer for Landel Controls, in Alberta, Canada. It's a request to cross reference a rotary encoder from another manufacturer. Jameson learns it's a "machine down" situation for the customer, a large specialty mill located two hours north of Calgary. The plant produces a variety of laminated lumber products; however, a key piece of equipment is inoperable without a working encoder. The other encoder manufacturer won't be able to supply the unit for weeks. "Can EPC get one shipped out today?" comes the question.
8:31AM Jameson decodes the competitor's part number, reviews their product documentation, and confirms an EPC equivalent: an Accu Coder Model 725. He specifies the Industrial Housing for maximum durability, as well as an optional "H5" output and Reverse Quadrature phasing in order to exactly match the competior's product features. Resolution, connector and pinout are all confimed as correct.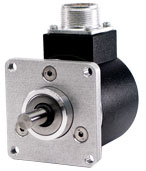 8:35AM E-mail sent to Dave. "Good news. A Same Day Expedite is available," for the configuration in question. However, the expedited order cut-off of 10AM is nearing so the customer will need to decide soon. Dave relays the information to the customer, confirms the product details and timing requirements, and obtains an order for the encoder.
9:40AM Order received at EPC. Two units for Same Day expedite and two additional units for regular delivery, to be kept as spares (always a good idea!). EPC Order Entry codes the order into the MRP system and the relevant Production team members are alerted about the Same Day Expedite order. A parts check confirms everything needed is in stock and an Order Confirmation is sent to Landel Controls.
10:00AM The Production process begins: work documentation printed, parts are pulled from stock room. The work order and components arrive at the Model 725 production cell and Dave's order moves to the front of the cue.
2:41PM The two expedited encoders pass final QC and are packaged for shipment via Fed-Ex. Landel Controls has coordinated Customs arrangements to ensure seamless passage across the border.
3:50PM Fed-Ex picks up the shipment and the two Model 725's start their journey North.
SATURDAY 16 FEBRUARY 2013 CALGARY, ALBERTA
9:00AM When his his local Fed-Ex office opens its door, Dave Seibert is already there. He collects the encoders and gets back on the road.
9:37AM The plant Maintenance Manager, eager to get the new encoders installed, departed the plant earlier in the morning. He contacts Dave and they rendezvous in the parking lot of a shopping mall just outside Calgary. The encoders continue on their way to the plant for installation.
MONDAY 18 FEBRUARY 2013 EPC HEADQUARTERS SAGLE, ID
8:00AM Jameson sends a follow-up note to Dave: "How did it go this weekend for your customer?"
9:46AM "Both encoders worked great and they are up and running", replies Dave. "Please thank everyone that was involved in making this happen. Customer is very happy!"
Manufacturing a build-to-order precision, industrial encoder (that is warrantied for three years) within a single business day is a challenge in itself. However, as this example illustrates, there are some factors that can contribute to a satisfactory outcome:
1. Complete information on the cross reference request Dave supplied Jameson with a complete part number and all the product details were readily confirmed through available documentation. This is not always the case, through no fault of the customer. Sometimes the encoder's label is worn or missing, the encoder company is out of business, or the encoder is from an obscure off-shore supplier. And even if the complete part number is supplied, the manufacturer may have included a "special feature" not readily identified. Or, the encoder may be of a type or particular configuration that we don't offer. All of these can potentially delay the cross reference process, and make it difficult to complete an expedite request.
2. Early notification Dave let us know early in the conversation that this was a time-sensitive request. And while the timing was a little tight, we were able to make the cut-off time to get the order in the production cue. When it comes to expedites requests, the earlier the better.
3. A qualifying configuration The encoder ordered by Landel Controls in this case was within the realm of configurations we can produce on a Same Day Expedite. Most importantly, it was under 3000CPR resolution and an Accu Coder model 725. The 25T, Model 15S, Model 15T, 711, and 716 are for the most part available for same day expedite.
4. A Competent, Responsive Distributor Partner Dave and Landel Controls were in communication with both the customer and with EPC throughout the process. Also, they made sure the order was received by EPC prior to the cut-off deadline. And, in the case of shipping to Canada, they smoothed the way for delivery. Finally, Dave Siebert's commitment to customer satisfaction was evident by the fact he was willing to meet the customer on a Saturday morning to deliver the encoders. We think it's exceptional, but according to Dave, "It's was no big deal."
Every day, EPC processes Expedited orders, often for customers in circumstances simliar to those described above. While our Standard Lead Time of four to six business days is suitable for most orders, when a production line is shut down, faster is definitely better. By getting an encoder in one or two days, a customer can save thousands of dollars in lost productivity.
On the heels of the Great Recession we're pleased to be doing our small part to help get America...and Canada...back to working.